Gray Cliff is a results-oriented firm that introduces its clients to key decision makers in business and government. We don't train your sales people. We simply get them meetings it would take them years to get on their own. We help them sell from the top down, providing senior-level access so they can spend their time selling.

Meet the Founder: Michael G. Lange, Esq.
An entrepreneurial lawyer with a proven track record of results, Michael Lange is an introduction maker whose strategic relationship building skills help clients maximize their ventures across a broad spectrum of industries. Mr. Lange blends deep legal, financial and analytical expertise with a proven ability to bring people together. His leadership abilities have helped struggling companies towards success and more established businesses achieve significant revenue growth.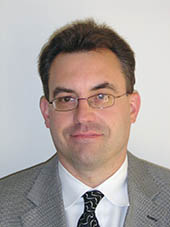 For 16-years, Mr. Lange led the business development, marketing and government relations efforts for a prominent national securities litigation firm in Boston. In that role, he developed an extensive network of attorneys, lobbyists, corporate executives and government officials vital to the firm's practice and growth. During his time as the major client-acquisition negotiator and presentation leader, the firm's institutional client list grew from roughly five to more than 60 when he left at the end of 2006.
Since founding Gray Cliff Ventures, Mr. Lange has introduced clients to executives at companies in almost every business sector including many Fortune 500 and comparably sized-private companies, as well as managing partners at some of the largest law firms in the country. He has facilitated meetings with executives at hospitals and health care organizations, financial service companies, and private equity and venture capital firms. In the public sector, he has helped introduce clients to officials at every federal, state, county and municipal level.
In addition to Gray Cliff Ventures, Mr. Lange heads the relationship marketing practice at The Liberty Square Group, www.libertysquaregroup.com, a government affairs and public relations firm with offices in Boston and Washington, DC.
A practicing lawyer for 18 years, Mr. Lange received his J.D., cum laude, from Harvard Law School and a bachelor's degree in economics, magna cum laude, from Swarthmore College. He has spoken at numerous investor conferences, law school and legal seminars, handled hundreds or press calls, and written extensively for the professional and popular press.

Sandy Sokoloff's background is in the Arts and includes raising money for Public Television, fundraising for other non-profits and Founder and President (1982-1992) of the Share Group, Inc. Share's clients included some major political campaigns including those of Ted Kennedy, John Kerry, Paul Wellstone and Mike Dukakis' run for the Presidency.
In the mid-90's, Mr. Sokoloff started consulting in the for-profit world, developing access for clients in many verticals including large-scale Office Buildings and NFL, MLB, US Open and other sports venues (Operations Software), Patent Litigation (Expert Witness Support Panel), and Thought Leaders in Cardiology (Genetic Testing Laboratory). Since 2007, he has helped Gray Cliff clients in Healthcare Energy Management, Cost Reduction, Supply Chain Performance Improvement, Bank Restructuring, Architects, Construction Managers and Lawyers and has set up more than 50 key introductions for Gray Cliff clients during the last six months.